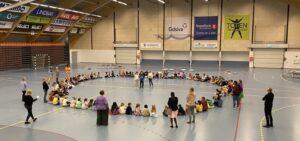 Below you will find some of the most common questions we are asked by interested parents and our answers to them. We hope you find the information useful. We strongly recommend that you visit the remaining sections of our web site for more details. Please do not hesitate to contact us if you have any questions or you would like to visit us.
How can I enrol my child at GIS?
We practise rolling admissions, which means applications can be submitted at any time during the academic year. To find out more and submit an online application click here.
Does my child have to speak English to join GIS?
No, students do not have to be fluent in English. However, we encourage parents to enrol children as early as possible in the academic year. The later a student joins us, the more he/she has to catch up on.
What languages will my child learn at GIS?
From Grade 1 to 6, children learn English and Norwegian. In Grade 7, they start learning a third language. Since August 2016, we have been teaching German. However, other languages may also be considered in future.
What is the language of communication with parents?
Our main language of communication is English. For example, our weekly newsletter, which is the main source of information for parents, is published in English. General information meetings are run in English, too. We can only guarantee translation in individual meetings and only into languages that our staff speak. However, parents are welcome to bring interpreters to individual meetings.
What is the class size at GIS?
We accept up to 20 students per class.
What is your homework policy?
PYP students receive homework once a week on Thursday and it is due in the following Wednesday. It allows families to choose the best time for homework completion and it accommodates different approaches – some students prefer to complete all work in one sitting while others choose to complete it in several shorter sessions. MYP students follow a homework timetable.
Are there restrictions as to what kind of food students are allowed to bring for snack and lunch?
Yes. We promote healthy eating habits. Therefore, sweets and fizzy drinks are not allowed. As many children are allergic to them, nuts are banned as well. Students can sign up for milk and/or juice through the following web site: https://www.skolemelk.no/Customer/Login
Where do PE lessons take place?
One of the advantages of our location on Gjovik University Campus is access to its facilities. In good weather, we use the football pitch across the road from the school. On rainy days, our PE classes take place in the newly renovated Campus Arena. You can find photos of both in our gallery.
How long is your school day?
Our day starts at 8:30AM and except for Wednesday it ends at 3:05PM. On Wednesday, the last lesson ends at 12:00PM.
What is the school environment like?
We make every effort to ensure that the environment at GIS is positive and safe. The school adheres to the Norwegian Act of Education § 9A. We work hard to encourage children to take care of each other and to work together in positive and socially responsible ways. For more information regarding the Norwegian Act of Education § 9A please click here.
How do you handle my personal data?
The data protection law in Norway changed on 25 May 2018 and we have systems in place to comply with the new requirements. Please contact us at post@gjovikis.no if you would like to receive a copy of our privacy policy. It aims to give you information on how GIS collects and processes your personal data, including any data you may provide through this website when you submit an application for a school place or sign up for a trial day. This privacy notice also outlines how we may use information that we obtain about you and your child when they are enrolled in GIS, when you do business with us as a client of GIS, an employee or other person.
It is important that the personal data we hold about you is accurate and current. Please keep us informed if your personal data changes during your relationship with us.
You have the right to make a complaint at any time to the supervisory authority for data protection issues. We would, however, appreciate the chance to deal with your concerns before you approach the authority, so please contact us in the first instance.