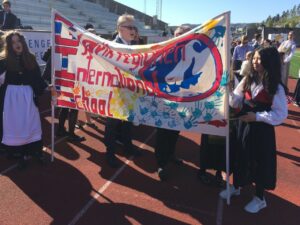 Welcome to Gjøvikregionen International School (GIS) and thank you for taking an interest in learning more about us. We believe GIS is more than just a school. It is an ambitious community created by forward-looking people that exists to provide a service to the local region, through international education. In the 8 years since we first opened we have established a centre for education that is built on celebrating diversity and an innovative approach to learning. This approach has supported our community in achieving global aspirations.
In order to attain our aspirations, we chose to use the educational framework of the International Baccalaureate Primary Years Programme (PYP) and the Middle Years Programme (MYP). We are currently an authorized IB World School offering both programmes and awaiting our first evaluation visit this year.
At GIS, we believe that a school's greatest asset is the teachers. Therefore, we have recruited enthusiastic and innovative PYP and MYP teachers, who nurture our students' curiosity and love for learning. Our educators do their best to equip our students with the skills needed to confidently and consciously take responsibility for their academic, social and personal development.
Our strategic objectives currently include developing our culture to be able to share with the local community so that everyone in Gjøvikregionen reaps the reward from our efforts. We will also be demonstrating the power of inquiry to instil a love of learning in our community that continues long after our students progress to the next stage of their learning.
Please take the time to explore our website to learn more about GIS. Do not hesitate to call or email us should you have any questions. However, we value personal contact most and would encourage you to schedule a visit. We appreciate that selecting a school for your child is a big decision to make. We will be very happy to assist you in the process.
I would encourage you to check back regularly to learn about the latest developments at GIS! Also, follow us on Facebook.
I look forward to welcoming you to our school and community.
Kind regards / Vennlig hilsen,
Samuel Rowe
Head of School